Japanese Language Training for Individuals in Zurich, Switzerland
We offer English-speaking clients tailor-made one-to-one tuition in Japanese at our language training centre in central Zurich (Horneggstrasse 4, 8008 Zurich, situated close to the railway station Zürich-Tiefenbrunnen)
With our standard modules of 10 lessons at 110 minutes each you will be able to study at your own pace, with the undivided attention of the tutor, and with a timetable that suits you. Our unique method lets you enjoy your lessons in Japanese and helps you realize your potential in the shortest time possible.

One-to-one Standard Course Module
10 lessons / 10 x 110 minutes

Weekly appointments
(Same weekday between Monday until Friday / same time-slot)

Tuition fee: SFR. 1'900.00, plus study material
ASIA INTENSIV Dr. Heinrich Reinfried is one of Switzerland's leading providers of Japanese language training programmes. Based in central Zurich, Dr. Reinfried and his team have been helping private and corporate clients to acquire skills in Japanese, Chinese and Korean since 1995. By studying at ASIA INTENSIV, you can be sure of first-rate tuition and modern teaching methods and materials.
For further information, please contact Dr. Heinrich Reinfried at: info@asiaintensiv.ch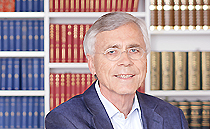 Dr. Heinrich Reinfried, studied Japanese at the School of Oriental and African Studies, University of London, from which he obtained his BA (Hons) in 1970 and was awarded his Ph.D. in 1975.
Since then, he has helped hundreds of students to achieve their goals in Japanese at the Swiss Federal Institute of Technology in Zurich, the University of St. Gallen, the University of Konstanz in Germany, Swiss Universities of Applied Sciences and grammar schools in Zurich.
The textbook Concise Course in Japanese, developed by Dr. Reinfried for the specific needs of students minoring in Japanese at universities and colleges, is today being used in Japanese language courses at major Swiss universities.